Palaces on Wheels 2021 sponsors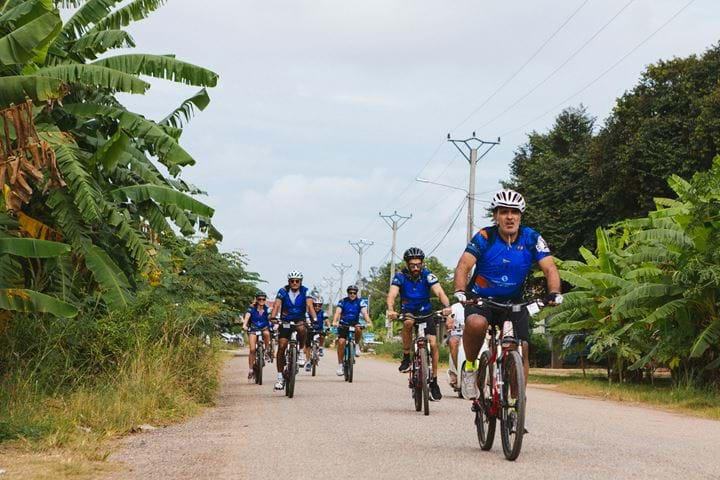 Platinum 
Gulf is part of the Hinduja Group, one of the largest diversified business groups in the world, spanning every continent, with over 70,000 employees. Gulf provides essential products that keep the world moving, offering an extensive range of lubricants and fluids for automotive, industrial and marine applications, as well as a global network of more than 1,400 fuel stations under license. With a strong international presence in Europe, South America, the Middle East and the Asia Pacific region, Gulf has seven owned blending facilities and several licensed plants worldwide.
Gold
Inbrit

Hayfield is a rapidly growing multi award-winning five-star housebuilder. The company is currently delivering 554 luxury homes in Oxfordshire, Bedfordshire, Buckinghamshire, Cambridgeshire and Wiltshire. Hayfield was formed in 2016 when its founders identified a void to deliver a more meaningful and higher calibre home than the volume housebuilders. The whole ethos of the company is founded on the principle of: "We build homes that we would love to live in ourselves."

Luxlo

was founded on a vision to create the most exquisite homes in the most sought-after locations, Luxlo has been specializing in the design and development of luxury residences since 2007, first in London and more recently globally.
Luxlo's developments range from the design of contemporary, boutique apartments through to the restoration of large period buildings. Luxlo's expertise lies in developing sophisticated interiors that are tailored to reflect their surroundings, whilst understanding the needs and aspirations of our clients.
Luxlo's projects are typified by meticulous attention to detail; exquisite design; the discreet incorporation of state-of-the-art technology and an ability to fulfil the most exacting specifications, most notably showcased by the award winning "UK Development of the Year 2016" scheme, 77 Mayfair in South Audley Street W1.
Planning, and in particular space planning, is integral to the success of all Luxlo's projects. Masterminded from conception through to completion by an expert team of interior designers, interior architects and project managers; each project is meticulously conceived, planned and executed to deliver uniquely bespoke living spaces. 

Squire & Partners

is an architecture and design practice with experience spanning four decades, earning it an international reputation for architecture informed by the history and culture of where it is placed. Their award-winning portfolio, for some of the world's leading developers includes masterplans, private and affordable residential, workspace, retail, education and public buildings.
The practice's approach responds to the unique heritage and context of each site, considering established street patterns, scale and proportions, to create timeless architecture rooted in its location. Embracing traditional and emerging technologies in craft and construction, the practice is renowned for delivering a rigorously detailed product.

Vitabiotics

has grown into the UK's No.1 vitamin company through creating highly effective supplements backed by science and research. It's the company in its category to win two Queen's Awards for Innovation with brands such as Pregnacare, Perfectil and Wellman. For over 50 years Vitabiotics has provided the benefit of good nutritional science for every age and every lifestyle. Vitabiotics takes pride in working with charities around the world that share its passion for empowering and inspiring people to live healthily and happily.
Silver 
BusinessGreen

is the UK's leading source of information for the green economy, delivering the latest news and in-depth analysis on green business and environmental issues.

Courthouse Hotel

Curzon PR

is a globally focused public relations and marketing communications consultancy specialising in strategy at the nexus of developed and growth markets. We provide our government, corporate and cultural clients with applied insight that transcends borders. We partner with our clients to harness the power of communications to help them communicate with their stakeholders effectively to build, promote and protect their brands and reputations.

J Hayward & Sons

of Walsall Ltd, more commonly known as Hayward's Transport, are proud to be The Peoples Haulier. We are a family run business, three generations and nearly 70 years old, although rumour has it that we were established even earlier in 1919, but we're still digging for proof to substantiate this. We pride ourselves in offering bespoke transport solutions in both the container and general haulage markets, and have depots in Walsall in the West Midlands, Knowsley in Liverpool and Leeds in West Yorkshire. Finally, we are proud to be associated with the Palaces on Wheels challenge and the British Asian Trust and look forward to raising money via the ride.

MSM Investment Advisors S.A.

is a multi-family office dedicated to providing wealth management services to global families. Our families are typically first-generation business owners and entrepreneurs who highly value their privacy and expect an exceptional level of attention to their family's wealth management needs. We believe we are well positioned to deliver on their expectations.
We partner with our clients over an investment cycle and generational wealth transfer to ensure the next generation has the necessary tools and knowledge to manage their inheritance and achieve their investment goals and objectives. Our team at MSM Investment Advisors S.A., brings over 150 years of combined investment management and intellectual capital. Our proprietary modules around Philanthropy and Giving and our partnership model in bringing attractive investment and co-investment opportunities aligns our interests alongside our families.
We value and respect the confidential nature of the relationship of our families and place their interests above all.

Trusted Reviews

offers tech news and expert reviews of the latest mobile phones, laptops, cameras, gadgets and home appliances. We'll help you buy the right product for you.  
Bronze
Axian Capital Management Limited

specialises in raising capital for private individuals and their companies and provides a fully dedicated banking and finance management solution for the duration of any project. This leaves our clients to focus on the management and operations of the business at hand.
We operate as a 'whole of market' debt advisor in both the UK and internationally. As we are owned independently by Axian's Managing Director, this ensures no conflicts of interest and enables Axian to fully align its interests with the client.
We pride ourselves on offering a fully transparent and wholly aligned advisory service, delivered with speed and conviction.
Our minimum transaction size is £5m on a stand-alone basis. However, we are open to developing longer-term client relationships where smaller multiple transactions are involved of £2m loan size plus.
Edwin Coe LLP is a full service law firm that provides clients with tailored and integrated legal services across a wide range of practice areas. We combine a highly personal and responsive service with industry-leading expertise.

Lee Valley

Luma

Mulberry

Storesafe

Vascroft

was established by two brothers – Shashi and the late Arjan Vekaria – in January 1977. They started out as jobbing painters and general labourers working on the construction of the Barbican Towers, London. Vascroft strives to offer an unbeatable range of advisory, construction, engineering, joinery services and excels in taking on challenges that have defeated others; providing a truly integrated one-stop shop solution for clients. Vascroft is a family-owned design and build as well a traditional main contractor, and takes pride in undertaking bespoke projects that challenge the status quo. The company's portfolio of achievements spans across bespoke developments to large multimillion pound refurbishments, featuring famous names of London's luxurious hotels such as The Dorchester, The Biltmore, The Westbury, as well as prime residential developments in Mayfair, Hampstead and leafy Surrey. Community projects sit at the heart of Vascroft's ethos, and we have proudly completed the Hare Krishna temple in Hertfordshire and the Jalaram Temple in Greenford. Vascroft is honoured to support the British Asian Trust's Palaces on Wheels challenge to raise much needed funds towards their programmes in anti-trafficking, education, livelihoods, mental health and women's economic empowerment set up across South Asia. Good luck to all riders!