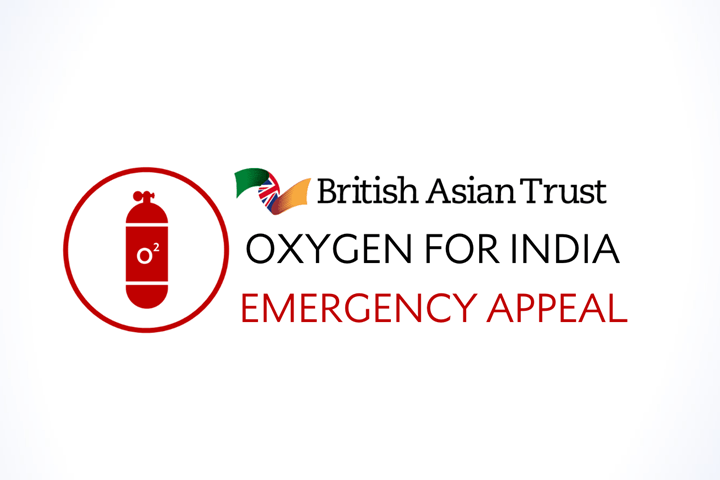 India is at the epicentre of the global COVID-19 pandemic that is now spreading out into India's hinterland. Currently, those most in need are in India's rural communities. Since the start of May, record daily infections and deaths are being reported from rural areas, that are home to over 70% of India's 1.3 billion population.
A lack of awareness and reluctance to test is compounded by the fact that most medical facilities are concentrated in the cities. People do not have enough information to diagnose or treat symptoms at home. When they try to seek treatment, there are limited or no beds or medicines in government hospitals, and the cost of private facilities is often way above what people can afford.
In addition, this wave comes on the back of suffering and stress faced by rural communities for more than a year, with families already in deep distress due to lack of livelihoods, reduced income, and insufficient access to food. Hunger is also a continuing disaster for parts of India's rural population.
HOW WE WILL HELP
Having consulted with the Indian and UK governments, our Advisors and programme partners in India, we have outlined a package of support that will complement what industry, government and other charities are doing to help.
The biggest difference we can make right now is to get oxygen and medical supplies as quickly as possible to those that need them most.
In the last three weeks, a staggering £4m has been donated to our appeal. This vital support will help fund not just 4,835 oxygen concentrators but also 2 PSA plants (oxygen generators), medical supplies and tele medical linkages to 2,000 villages in India. 
Our partner Swasth is now deploying oxygen concentrators in 27 States and Union Territories across India, up from 13 a week ago. In addition to the large urban areas, oxygen concentrators and other urgent medical support is being allocated to rural areas where there is little by way of doctors, medical facilities, basic medication and information.
Your donation will go directly towards funding our Oxygen for India Emergency Appeal, helping those who require oxygen treatment or emergency support during the current wave of the pandemic in India. If through this appeal we raise more funds than can be implemented by our partners, the extra funds will be used for our vital work to help the poorest people in South Asia rebuild their lives following the pandemic.
Thank you again for your support. As we emerge from the worst of the pandemic here in the UK, we continue to remember and pray for those in India in the midst of their darkest days.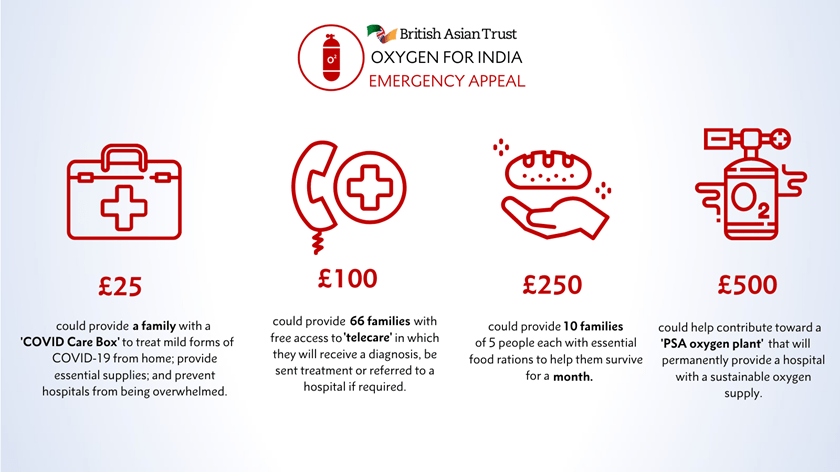 PLEASE DONATE 
Please support our Appeal if you have not already, and do encourage your networks to donate.  
In addition to oxygen concentrators, we will be broadening our support to provide additional emergency help, including medical kits and rations for those in most need. We will work with our trusted local partners to ensure we address the biggest issues as they evolve during this crisis.  
For donations to our Oxygen for India Appeal: 
For any amount up to £10,000 please donate here. 


For donations over £10,000 please contact us via info@britishasiantrust.org 
HELPFUL INFORMATION
Shout 85258:
Are you a member of the British Indian diaspora? Have you recently dealt with anxiety or worry about your family and friends in India as they cope with the ongoing situation in India due to COVID-19?
The British Asian Trust has teamed up with Shout 85258 to provide mental health support to members of the community facing anxiety, depression or other mental stress.
We are grateful to Shout 85258 volunteers and team for this offer of support at a time when our community across the globe is dealing with so much pain and grief.
For free and confidential support simply text SHOUT to 85258.
Project Step One:
If you are a medical doctor and want to volunteer, do reach out to Project Step One, a non-profit collective of technology and healthcare professionals on a mission to augment government resources with technology, people and processes to effectively fight against COVID-19 in India.