Empowering adolescent girls through technology
In partnership with BT, we will deliver a three-year strategic programme (2019-2022), using technology to inform – and transform – the lives of adolescent girls in India.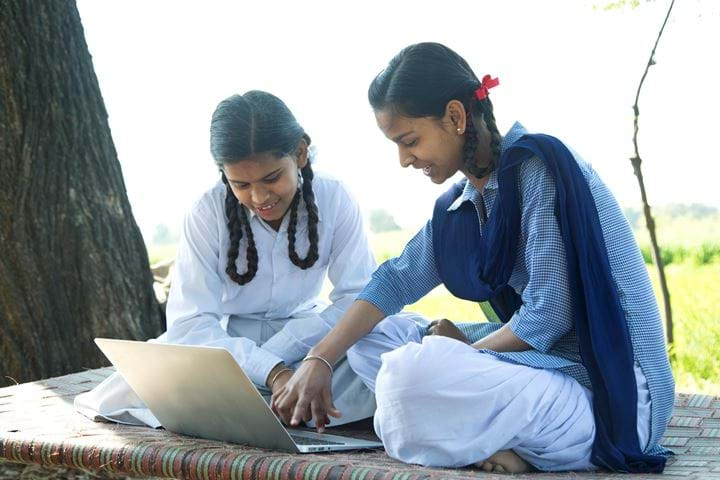 Working in Delhi, Bengaluru, Kolkata and Mumbai, we will directly improve the lives of 100,000 adolescent girls and reach a further 500,000.  
We will enable girls to access information, skills and opportunities - improving their understanding of equality, supporting their employability, and informing them about support for good health. 
Philip Jansen, Chief Executive, BT Group

"The world of work has changed enormously during the 30 years BT has been in India. We recognise that digital technologies have the potential to transform opportunities for this and future generations of girls. We're delighted to be partnering with the British Asian Trust."

Problem
About 10% of India's population are adolescent girls. India has the highest rate of teen pregnancy globally and 18% of girls drop out before the end of secondary school.  Lack of opportunities mean that girls have little control over their own futures. 
Solution
The programme aims to empower girls through information and skills-building in various areas:  

creating a foundation for life-long learning

 

increasing employability

developing confidence in decision making about personal health
improving understanding of the rights of women and girls within communities. 
This programme is strengthened by employee volunteering opportunities for the team of 10,500 BT staff based in India – including help with communications, mentoring and workshops, IT development of open source material and school 'adoption' fundraising.  
Delivery partners for this programme
Going to School

is a creative not-for-profit that makes design-driven content to teach children and young people 21st Century skills in school, online, and on national television.

IT for Change

promotes innovative and effective use of digital technology for socio-economic change in the global south.

Breakthrough India

 

mobilises

 

and inspires people to fight for the rights of women and girls by

 

catalysing

 

leadership in communities to change deep-rooted cultural norms that perpetuate gender-based discrimination and violence.  

 

Etasha Society

is a not-for-profit society providing vocational training with placement as well as employability skills training and career guidance to young people from disadvantaged communities in India. 

 

Mentor Together

is India's first and largest youth mentorship organization.

People for Action

works in government secondary schools to improve the learning outcomes of children, increasing their transition to higher education and access to career opportunities.
Read more about the partners.
BT's Muslim network 
We also have a three-year partnership with the BT organisation's Muslim network. The network chose to support not only the Empowerment of Adolescent Girls' education, health and economic empowerment projects but also our mental health work. We have been able to provide speakers for BT's webinars and webcasts to launch the programme and have activities planned for this year to engage network members through challenge events, regular podcasts and knowledge-sharing live calls.