School mental health programme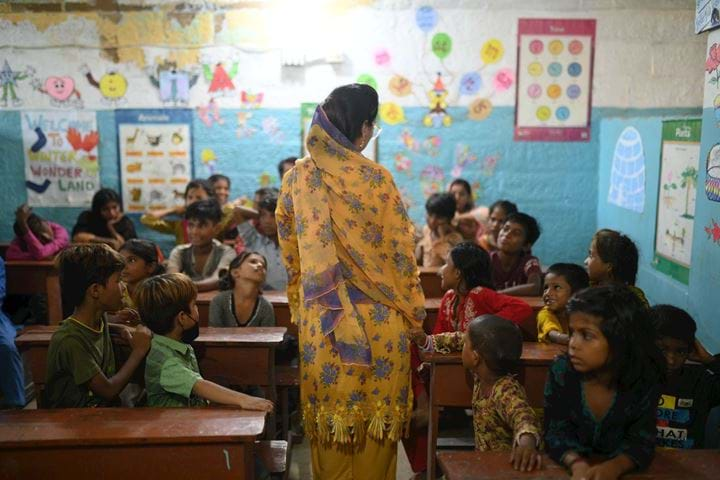 Why this is important 
In Pakistan, children and adolescents comprise almost 20% of the population and are particularly vulnerable to the many drivers of mental health issues prevalent in the country, such as violence, political unrest, and social and economic inequalities1, which have been exacerbated by the COVID-19 pandemic 
Studies2 conducted with adults show that most mental health problems begin by age 14, with most cases going undetected and untreated. Globally, suicide is the fourth-leading cause of death among young people aged 15-293 and 79% of suicides occur in low-and middle-income countries. 
The prevalence of emotional and behavioural problems among school-aged adolescents in Pakistan was already estimated to be between 19-34%4 before the COVID-19 pandemic. 
Project Partners: Global Institute of Human Development (GIHD)
Duration: 2021 - 2023
Project goals  
The project has achieved the following transformative impact: 
7,000 adolescent young people are benefiting from awareness about mental health issues, universal mental health interventions, access to screening and early detection of underlying mental health issues and a more positive overall school environment, with staff who are more sensitive to the overall wellbeing of its students. 

 



800 adolescent young people with a mental health issue in Grades 7 – 10 (approx. age 10 – 16 years old) are demonstrating improved mental health and wellbeing 

 



300 teachers and 80 head teachers have improved knowledge, understanding and behaviours regarding mental health and wellbeing in their roles 

 



80 schools have integrated and implemented mental health prprovisions within the schools' policies and curriculum 

 



Generation of robust evidence of impact collected and engagement of key stakeholders, such as private education providers, leading NGOs and local government education authorities and funders, for future scale-up of the model beyond the project period achieved  

 
What we are doing
Currently, there is just one child psychiatrist for every four million children with a mental health issue in Pakistan, and no formal system for school-based programmes. 
A wealth of global and local evidence has shown schools offer an excellent opportunity for early identification and management of adolescents' mental health. With 86% of boys and 75% of girls aged 10 - 14 in Pakistan enrolled in schools, they offer the opportunity to reach many young people with support, and raise awareness and reduce stigma among youth, their families and communities.  
Training of school staff also enables early identification and intervention, when issues are easier and less costly to treat. School mental health interventions have also been shown to improve youth mental health across a number of indicators, including improved school attendance and educational attainment, and are highly adaptable to young people's diverse and individual needs.  
To meet this gap in support, the British Asian Trust and GIHD delivered a technology-enabled School Mental Health Programme (SMHP) to reach adolescent young people (aged 10 – 16) in public and low-cost private schools in urban and rural areas of Pakistan, facing social and economic disadvantage, as well as mental health issues. SMHP was implemented in 80 public schools where 150 teachers enrolled into the online programme resulting in improved teachers' knowledge and skills about early identification and management of mental health problems in school children. 
This innovative programme, developed using the World Health Organisation's (WHO) globally-endorsed framework, provided online training and support to teachers and school managers to identify, manage and respond to their students', as well as their own, mental health issues.  
Latest news
News & events

The British Asian Trust and the Mir Khalil ur Rahman Foundation sign MOU for upcoming mental health campaign

News & events

The importance of ethical principles for mental health professionals

Case studies

Mental health: Abrar's story

Case studies

Mental health: Mahmuda's story

Case studies

Mental health: Madiha's story

Case studies

Mental health: Talal's story

News & events

Roundtable discussion: Strengthening mental health in Pakistan

Blogs

It's time teachers prioritise mental health

News & events

Mahira Khan visits British Asian Trust's mental health project in Karachi

Case studies

Mental health: Rehmat's story

Blogs

Bringing Peace of Mind

Gallery

Iftar at JW Marriott Grosvenor House London

April 2022

Case studies

Mental health: Ismail's story

Case studies

Mental health: Muzammil's story